Water Desalinisation Plant, Faw region in Basrah, Iraq
After many months of negotiation and working closely with a leading water treatment company, Waterco were delighted to be chosen as the preferred vendor for the supply of our Multi Media.
Filters SMD2000 in their turnkey RO system. Such system (totaling 40 x Micron SMD2000 tanks) was installed on a Water Desalination Plant in Basrah, Iraq. A spoke-person for the company reported that they were very impressed with the quality and the results of the Multi Media Filters.
"Such installations attract a lot of interest from many manufacturers from around the world and it's a great testament to the quality and design of the Waterco range of commercial filters" .
A total of 4 plants were constructed, each plant consisting of 10 x Micron SMD2000 Multi Media Bobbin Wound Filters. Each plant has an output of 100m³/hr and the pre-filtration is about 250-275 m³/hr (system recovery is 35-40%). Combined pre-filtration for the 4 plants is approximately 1000 - 1100 m³/hr.
Being installed on water treatment plants meant that the filters had to be designed and manufactured to much higher pressure ratings due to the fact that in the water treatment sector the minimum pressure rating requirements are 4 bar, and in fact mostly 6 bar. Waterco currently are able to offer commercial filters from 2.5 bar – 10 bar pressure ratings in order to cater for the majority of installations.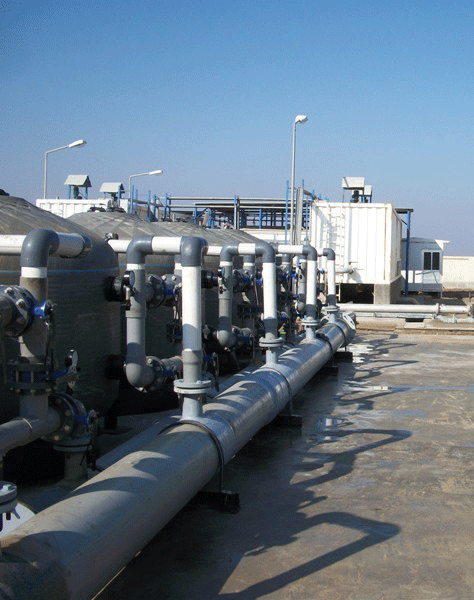 Each plant consisted of 10 x Micron SMD2000
Filters.
Combined prefiltration for the 4 plants is
approximately 1000 - 1100 m³/hr