Waterco Ltd has announced that it is business as usual in Western Australia, despite a fire which broke out at its Perth premises on Saturday 3 May 2014.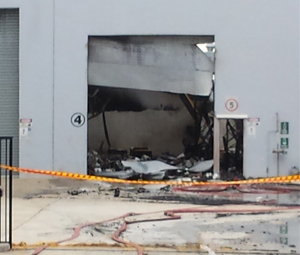 "Other than a temporary slight disruption in the supply of a limited range of stock, Waterco's customers in Western Australia will not be impacted," says Garrie Stewart. "The business on site has resumed as usual."
Units from the Department of Fire & Emergency Services attended the scene and extinguished the fire. The fire was contained to the dangerous goods (DG) store, where pool chemicals are stored. There is significant damage to the DG store where the eastern wall has fallen onto the adjourning premises. The other walls of the DG store are also damaged and supporting beams are warped. An assessment is being done to determine whether the remainder of the building (warehouse and office) has been damaged, although initial reports suggests that this is not so.
Hazardous materials have been removed from the site to minimise the impact of the fire and to prevent further losses. No one was in the building at the time of the fire and as far as Waterco is aware, nobody was injured.
Waterco has commenced an investigation to determine the cause of the fire and to assess the extent of the damage. A structural engineer has assessed the damage to make a determination on what needs to be done to make the premises safe.
For any enquiries please contact Garrie Stewart on 08 9273 1900.